What is a triangle?
The plane closed figure, with three sides and three angles is called as a triangle.
Types of Triangles (Based on the sides)
Equilateral triangle
Isosceles triangle
Scalene triangle
Types of Triangles (Based on the sides)
Acute angled triangle
Obtuse angled triangle
Right angled triangle
AREA OF TRIANGLE
Area of triangle or right angle triangle= ½baseheight
Area of equilateral triangle = √3a2/4
Area of isosceles triangle= (1/4) × b × √ (4a2 – b2)
AREA OF TRIANGLE BY HERON'S FORMULA
Area = √[s(s – a)(s – b)(s – c)]
Where s= (a+b+c)/2
Example– A triangle PQR has sides 4 cm, 13 cm and 15 cm. Find the area of the triangle.
Semi perimeter of triangle PQR, s = (4+13+15)/2 = 32/2 = 16 cm
By heron's formula,
A = √[s(s-a)(s-b)(s-c)]
Hence, A = √[16(16-4)(16-13)(16-15)] = √(16 x 12 x 3 x 1) = √576 = 24 sq.cm
Example–
The sides of triangle are a, a, a units
s=(a+ a+ a)/2​=3a/2​
Using Heron's formula
Area of equilateral triangle is 

HERON'S FORMULA FOR QUADRILATERAL
Let ABCD he a quadrilateral to find the area of a quadrilateral we need to divide the quadrilateral in triangular parts
 Here AB||CD and AC & BD are the diagonals.
AC divides the quad ABCD into two triangles ADC and ABC.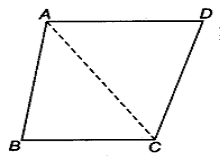 Now we have two triangles here.
Area of quad ABCD = Area of ∆ADC + Area of ∆ABC (Calculate area of triangles by Heron's formula)